PARTY MLM COMPENSATION PLAN
Party Plan is a novel approach implemented by MLM companies for promoting or publicizing of their products by organizing social events like parties, home based get together or such occasions. During the event, the company's products will be exhibited for sale. So, in effect, this is actually a method of direct selling employed by MLM companies to boost their products.
This plan is more popularly operated among women for fast moving products like cosmetics and kitchen utilities. But of late, men are also increasingly seen participating in part plans. Representatives hosting the party are called consultants or independent contractors of the company. The consultants will be paid a percentage of the sales they generate through these events.
This plan is more favourable for introducing new products rather than selling existing products. The event can be used to educate customers in detail about the features of the product. This has proven to be very effective as the sales pitch is received by people in a jovial mood. And usually, the products would be offered at introductory prices, far below the actual prices.
PARTY MLM SOFTWARE DEMO
Admin Login
User-Name : admin
Password : 010101
Member Login
User-Name : leaduser
Password : 010101
HOW DOES PARTY MLM PLAN WORKS?
The working of this plan starts with the company finding potentially influential people with good social standings. Such people are proposed with the position of consultants or independent contractors of the company, offering to sell its products on a commission basis.
The company the gives them the basic assistance needed for organizing the event. Sometimes, the company may also provide promotional merchandize like caps printed with the company logo or brand name and printed marketing materials like flyers, brochures etc. These consultants then organize an event to promote the company's product or products and invite acquaintances of theirs using their social connections. Once the party is on and in full swing, they introduce the company and its products and solicit guests to buy them.
Guests will be inclined to buy the products, either out of obligation or because they have been convinced of the advantages of the product, as described by the host. As mentioned earlier, guests at the event will be in a jovial mood and are more likely to make a purchase at such events. For the company, the event works out to be an advertising tool, as well as a marketing opportunity. And the consultants will be earning a handsome amount via commission from the sales generated at the event.
ADVANTAGES OF PARTY PLAN
More effective than conventional promotion methods. Guests attending the event would be those acquainted with the hosts. So, they tend to take their recommendation more seriously than getting recommended through advertisements or other promotional activities.
Better way to introduce new and innovative products. These events present the opportunity and ample time to describe in detail about a new product concept. So, this plan is suitable for introducing new innovations to customers. This is far more effective and economical than getting celebrities to endorse products.
Opportunity to build brand reputation. People would be more inclined to connect with a brand name they get introduced to, at a fun party. It is a proven psychological tactic to build brand awareness, as the brand name gets embedded to memories associated with the party.
Offers customers better bargains. Since products are usually offered through party plans at far lower prices than the actual market prices, it offers the opportunity for customers to grab new products at bargain prices.
Companies can attract new consultants from the events. These events not only help companies make good sales, but they also present the opportunity to attract new consultants. After the hosts introduce the products and the company, they may also invite their acquaintances attending the party to be consultants of the company and host events like these and earn like they do.
DISADVANTAGES OF PARTY MLM PLAN
Limited reach as compared to other promotional activities. Only a limited number of people would be attending any given event. Therefore, arranging to organize events in the party plan may not always work out to be really cost-effective for the company. If you are looking for a wider reach, this plan is not recommended.
Low profit margins. To promote sales and to attract new customers, companies would be forced to sell products at introductory prices with a very low profit margin through party plans. Though it helps product promotion and brand reputation building, it is not really good for selling products at a reasonable profit.
Difficult to find consultants with good social standings. Though there is not much work required by the consultants, it is not easy as it sounds, to find consultants with good social standings, who would be interested in selling products at parties hosted by them. Social standing of consultants is very crucial for the plan to be effective, and oftentimes, such people are not so interested in connecting business with pleasure.
COMPENSATION IN PARTY MLM SOFTWARE
The MLM Companies Define Their Compensation Plan Based On Their Policies. As A Leading Provider Of Party Software System, We Offer Different Compensation Structures As Per The Companies Requirements.
PARTY BONUS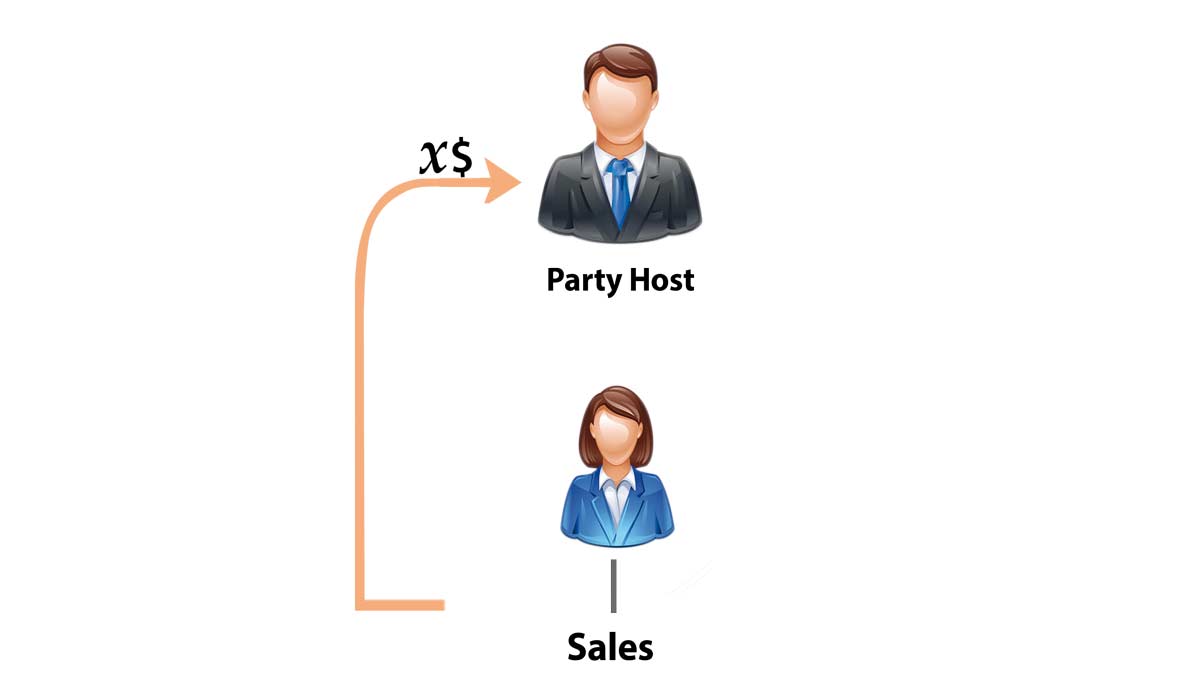 MLM businesses pay pairing bonuses to distributors for the down lines placed under their direct down lines. The maximum pairing bonus will be calculated by the plan you choose and the rules fixed by the company
REFERRAL / SPONSOR BONUS

It is same like in other compensation plans. This as a motivational bonus because these type of bonus is offered by sponsors to make members active in stable network expansion
MATCHING BONUS

It is the amount earned as a percentage for every person signed on by your down lines. This actually starts almost 5-6 levels below you and is actually a motivation for you to grow your network deeper.
RANK ACHIEVER BONUS

his bonus is paid to existing members when they turn eligible to the higher level or rank. It acts as a promotion bonus in the MLM industry.