STAIRSTEP MLM COMPENSATION PLAN
The Stair Step Compensation Plan, also called Stair Step Breakaway Plan, is distinguished by members or associates responsible for sales volumes in both the personal level and the group level.
This compensation plan is arguably the oldest MLM plan still in use. This means it is one of the most effective and time-tested compensation plans in the MLM field.
In stair step mlm software plan, the required sales volume is created by recruiting new associates as well as by retailing the product line of the company. And members move up one step in the team hierarchy, once they recruit a predefined number of associates and also sells a preset volume of products. Again, once they meet the predefined requirements one more time, they will move up yet another step. This will continue until they reach a predefined number of steps, like 10, for example. Once they reach the 11th step, they will be detached from their first step on the upline. This is called the break away. Again, when they move to the 12th step, they will no longer be attached to their original 2nd step. This means, at any given time, a member will be part of a group consisting only 10 steps. The moment they move one step up, the earliest formed step will be detached from them.
STAIRSTEP PLAN ADVANTAGES
The plan with the most earning potential for members. The break away system makes it easily possible for members to build bigger teams and earn commissions from deeper downline levels. Additionally, there are no limits to the number of associates a member can recruit into his first generation line.
Better scope for promotions for members. Since completing sales targets immediately qualifies for promotion to the next level, it has a better scope for career growth for all members. And a promotion will also mean better income in terms of commissions. This makes it definitely a win-win situation for members to join an MLM company following this plan.
Effectively beneficial for the company. The equal emphasis on selling the company's products and recruiting new members is very advantageous for the company. The company does not have a problem growing its sales force as well as moving its inventory. All associates work equally hard at recruiting new associates to strengthen their teams and to meet sales targets, since both these activities are essential to advance through the steps.
Creation of ranks in the organization chart is easy. Since senior members on earlier steps gradually get separated through break away, it is possible for the company to create various ranks, such as supervisors, managers etc. As soon as older steps get broken away from their previously attached groups on a regular basis, the company can create new positions in groups formed earlier and keep senior members motivated.
STAIRSTEP COMPENSATION PLAN DISADVANTAGES
Members tend to amass inventory to gain rank. This is the main disadvantage of this otherwise profitable plan for the companies. Since volume of product sales is a deciding factor for a member to move up steps, members stack up inventory. This way, they mislead the company into believing that so much products are being sold. Such members will be planning to sell the products later at their convenience. This causes in consumers getting old stock products, which affects the company's reputation for quality.
Top members need not be top earners. As we have seen earlier, commissions are based on both recruiting as well as selling. This means even if one member concentrates only on selling, he can make more money, without moving to the next step. Whereas, a truthful member who tries to meet both the selling criteria as well as the recruiting criteria and move up to the next step, may not be paid as much in commissions.
UNIQUNESS OF STAIRSTEP MLM SOFTWARE
The stair step compensation plan is arguably the most attractive plan for companies that are looking for a long haul in the MLM field. And it is suitable for any kind of product categories, be it consumer goods or otherwise. This plan is also more advantageous for members looking at the MLM business as a long-term profession. If you look closer, you will see that the cons are rather negligible compared to the many pros attributed to this plan. It is also a plan that guarantees career growth, improved income and a balanced arrangement of set targets.
COMPENSATION IN BINARY MLM SOFTWARE
The MLM Companies Define Their Compensation Plan Based On Their Policies. As A Leading Provider Of Stairstep Software System, We Offer Different Compensation Structures As Per The Companies Requirements.
MATCHING BONUS

It is the amount earned as a percentage for every person signed on by your down lines. This actually starts almost 5-6 levels below you and is actually a motivation for you to grow your network deeper.
REFERRAL / SPONSOR BONUS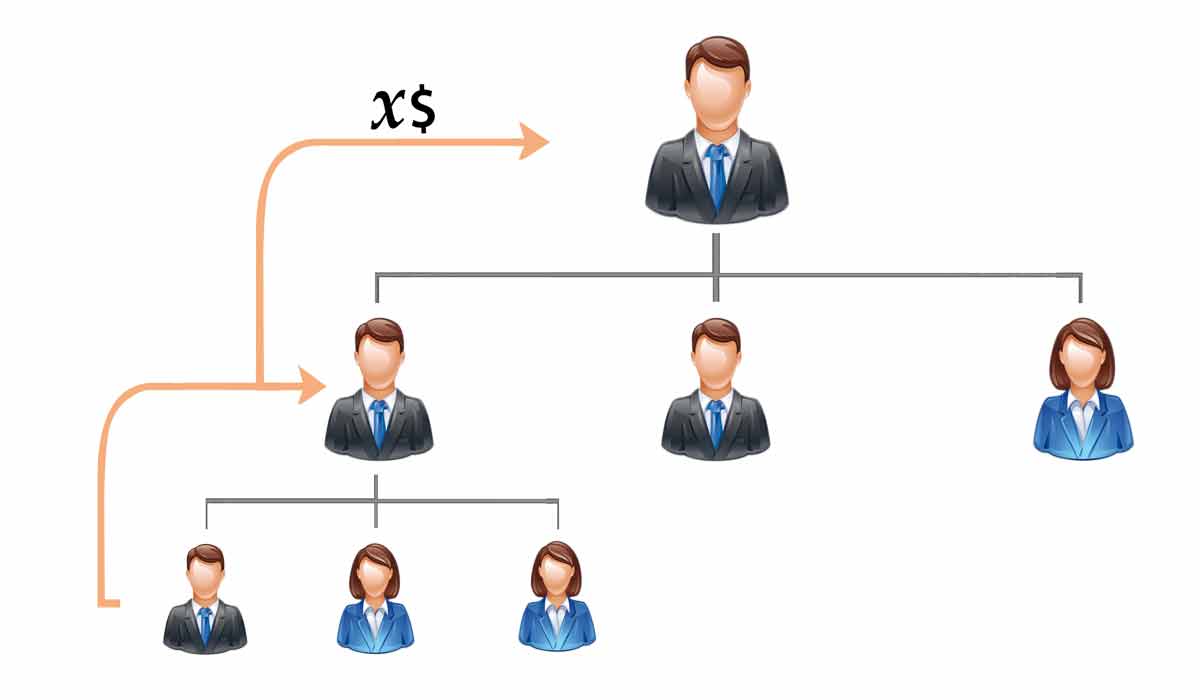 It is same like in other compensation plans. This as a motivational bonus because these type of bonus is offered by sponsors to make members active in stable network expansion